WorkInConfidence PULSE employee involvement platform underpins a healthy culture by redefining how you connect, engage, and communicate with your people. Therefore, diversity and inclusion are at the centre of our commitment for enhancing accessibility for our users – removing barriers to facilitate a fair and equal opportunities for raising concerns or issues and accessing feedback.
As part of our ongoing commitment, we are enhancing accessibility of our employee involvement platform to be fully compliant to W3C AA standard. by the end of the year. Our enhancement features include; changing colour contrasts, keyboard and voice activation processes, so that everyone can have a fair, equal, and accessible experience of our employee involvement platform.
New look employee involvement platform homepage and accessible colour scheme
Accessibility is important to contemporary software solutions but vital to one that facilitates trusted two-way communication.
The latest release of WorkInConfidence's PULSE employee involvement platform features a new colour scheme to improve contrast and readability accessibility. Simplified messages, more graphics, voice prompts and SMS as well as email notifications.


More prominent action buttons
High contrast, easily identifiable actions to facilitate employee communication

SMS notification options reminders
Greater choice in how users receive information from the PULSE employee involvement platform.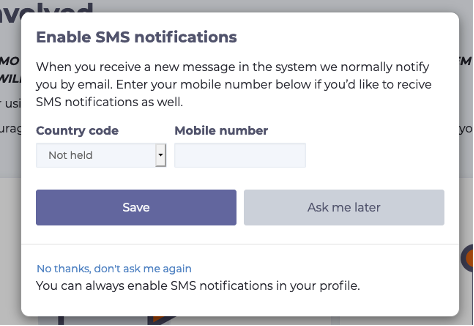 Why diversity is good for business
Diversity is what can take a business from being average to being exceptional, with businesses who have a healthy balance of men and women 15% more likely to outperform their competitors, and those with a good mix of ethnic backgrounds performing 35% better. But why is diversity good for business, and how can your business become more inclusive? There are dozens of benefits to having a diverse and thriving workplace, we've picked out 5 of the best to share with you, as well as advice on how to avoid bias in interviews: Read our blog here to find out more.
We hope you have found this helpful and look forward to hearing any feedback you may have on how you support diversity in your organisation. In the meantime, please feel free to download and share our Infographic on How Diverse Are Our Workplaces Really?
To experience WorkInConfidence PULSE for yourself please click here to arrange a DEMO.
Protect: Anonymous Speak Up: A safe and secure way for your people to anonymously raise concerns via phone, tablet, or PC, ensuring you are aware of any workplace issues and can respond quickly and accordingly
Consolidated Case Management: A secure online place to record, track, update, and report on all speaking up matters, whether raised through WorkInConfidence or directly.
Surveys: Easily set up, run and interpret surveys on engagement, respect, wellness or other topics to ensure you always understand your people, their needs and motivations.
Discussion Boards: Demonstrate your commitment to collaboration with discussion boards to accelerate employee engagement and gain greater insights – anonymous if required.